Each month at the Allendale County School District Community Meeting, amazing students are named Students of the Month for his or her school. Students are recommended by the administrators of each school based on academic performance and character. At the November Community Meeting, the following students received this honor.
Nathaniel Smoak
Little New Steps
"Nathaniel is a very happy 1-year old toddler, that likes to laugh, is very friendly and smiles with everyone he meets. He is very independent and prefers to feed himself. Nathaniel loves the outdoors and loves experimenting and exploring the world around him."
Kameron Dunbar

Fairfax Elementary School
"Kameron Jacob Dunbar is a K5 student in the Montessori Class. He is an exemplary student with outstanding character in and out of the classroom. He represents the 4 Bs' of PBIS - Be Respectful, Be Responsible, Be Cooperative, and Be Safe. This scholar loves the book and the movie, Titanic. Kameron knows all of his Dolch Words from Pre-K through 2nd grade. Kameron is excited about learning! He is an awesome student."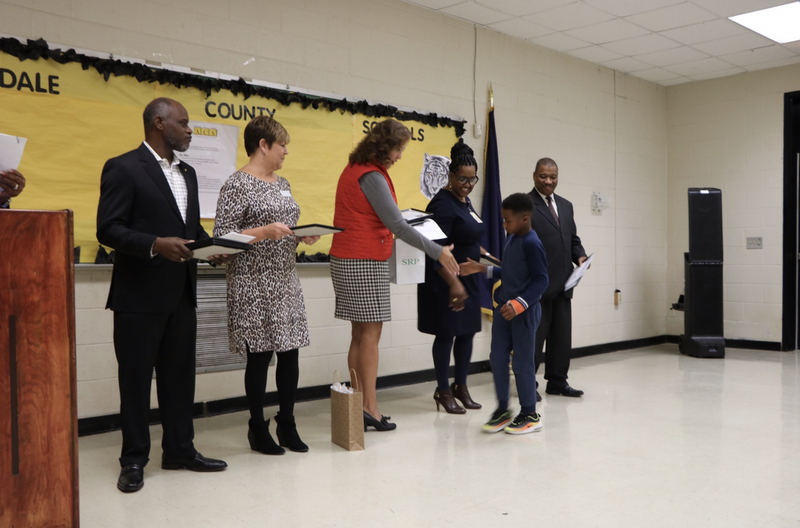 Kaiden Odom

Allendale Elementary School
"Kaiden has shown so much improvement since the beginning of the year. Fourth grade was a big adjustment for him, but he has now settled into 4th grade with home and school working together. We know that we will see even more improvement throughout the year."

Fatima Cervantes

Allendale-Fairfax Middle School
"Fatima brings her "A" game to school every day; comes to class with a smile; is eager to help others; respectful of peers, adults and herself; shows pride in her classwork; is supportive of her peers; collaborates well with others and is always on task. Fatima is a Rockstar student!!!"
Alani Williams

Allendale-Fairfax High School
"The Tiger family is ecstatic about highlighting Ms. Alani Williams as our student of the month. Her 4.5 GPA has afforded her a slot into the highly competitive Alice Carson Tisdale Honors College at Claflin University. She aspires to become a secondary Mathematics Teacher. This tenacious senior is a dual enrolled student at USC Salkehatchie, a member of the National Honor Society, the Beta Club, the Lady Tiger's Softball Team, and works a full-time job. She is a true gem and inspiration to all."

Congratulations, scholars!